Regular price
$189.00 USD
Regular price
$239.00 USD
Sale price
$189.00 USD
Unit price
per
Sale
Sold out
Shipping & Returns

· Ship within 2 business days

· 12-month warranty.

· 24-hours quick response.

· 30-Day Money-Back Guarantee
(Click to enlarge to see 3D view of LuckyBot Food Extruder Combining with 3D Printer)
Package Details
LuckyBot Food 3D Printer Extruder
One Z-axis extension plate (extended by 60mm)
One box of LuckyBot customized tubes (4 pcs)
Descriptions
——Just remove the original extruder, and connect LuckyBot with your own 3D Printer, it only takes a few minutes and you'll be able to create your ideas into reality. It comes with three buttons to control operation temperature and adjust the lead screw, easy to 3D print and create fun.
FOOD-GRADE MATERIALS WITH FDA CERTIFIED
——Food safety is the most important. LuckyBot comes with a food-grade ABS body, food-grade stainless steel nozzle, and food-grade PP tubes. It has been certified by FDA, FCC, and CE.
COMPATIBLE WITH MOST FDM 3D PRINTERS
——This food 3D printer extruder could be installed on most FDM 3D printers, so you may upgrade your own 3D printer into a food printer easily and bring the 3D print technology to your kitchen creatively.
WIDE RANGE OF PRINTING INGREDIENTS
——LuckyBot extruder supports the 3D printing of a variety of ingredients like chocolate, cream, cheese, fruit Jam, mashed potato, and salad sauce, allowing you to make more creativities.

Please Note: For Ender-3 S1, Ender-3 S1 Pro, Ender-3 S1 Plus, Ender-3 V2 Neo, Ender-5 S1, LuckyBot can't be compatible with them at this moment, we are working on them.
View full details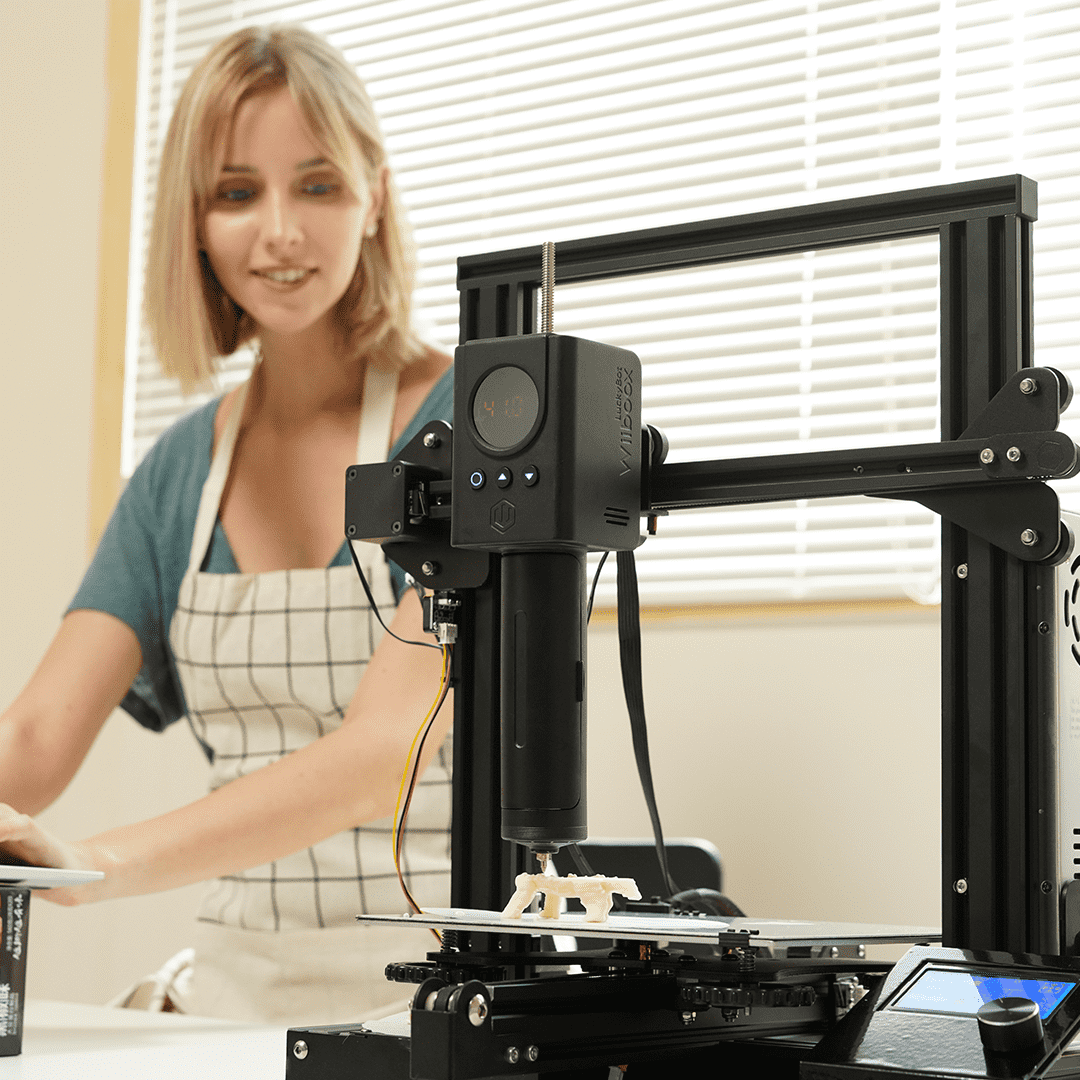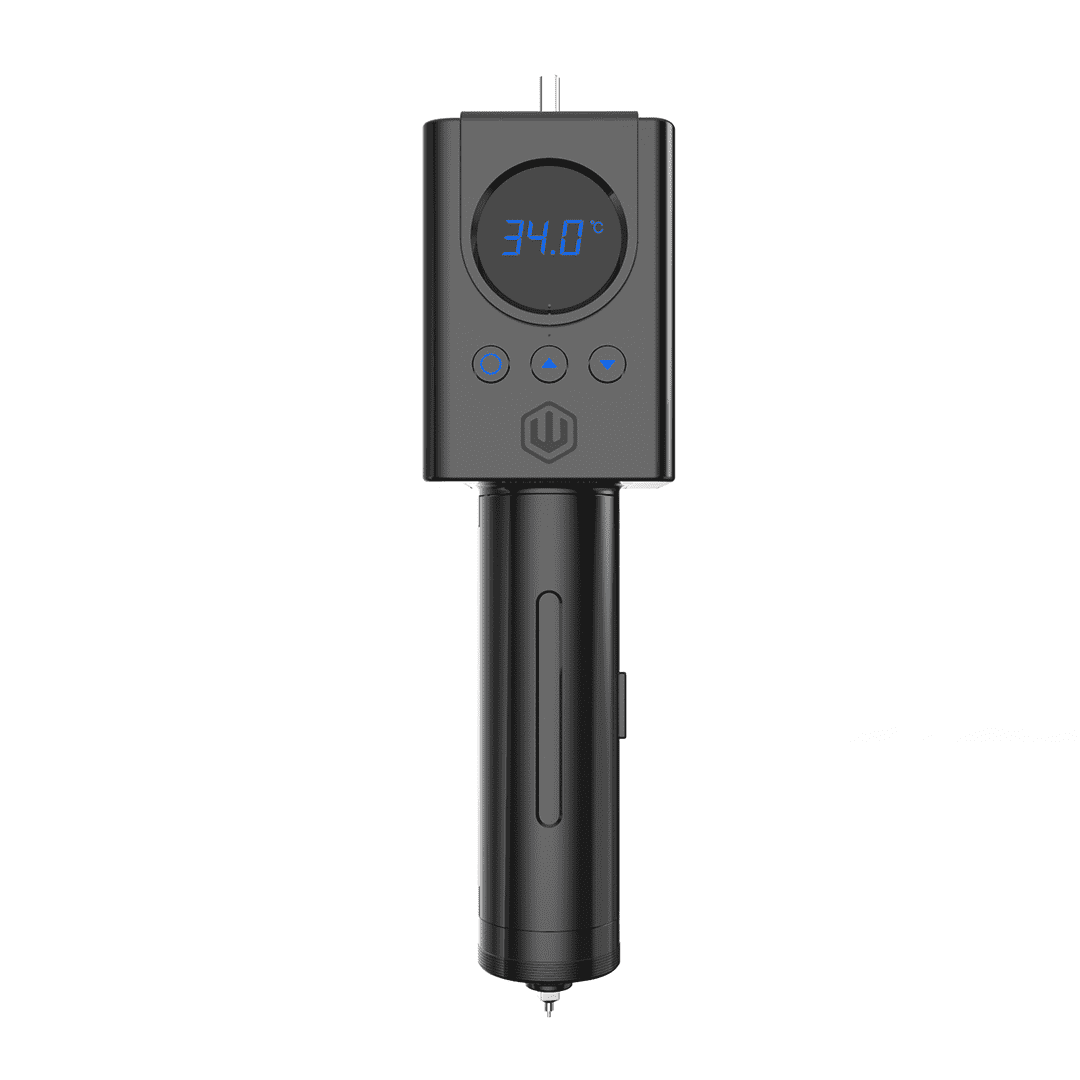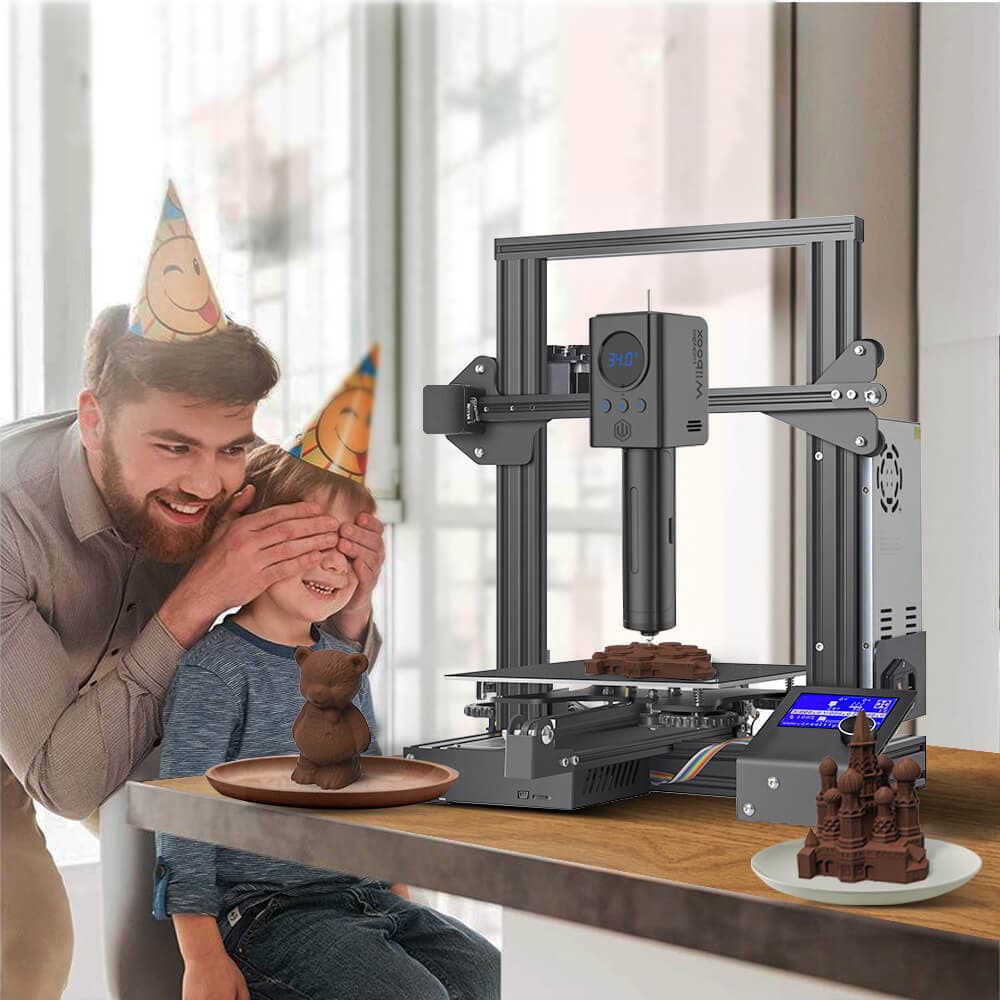 No Installation Manual
I will update this if I can figure out how to install this extruder. The extruder does not come with an installation manual. There's a qr code, so I thought I could download a manual online, but there's nothing on the page other than some videos that are not very helpful. I contacted support about this problem, but it's been several days and I haven't heard back yet. I found an old installation manual online, but it's missing a page, and one of the pages around the missing page says that it's necessary to be very careful at that particular step, or you could make the 3D printer entirely unusable. It's also not clear that the parts int he older installation manual are the same as what I received. Other than that, the package came with several parts and appeared to be in good condition. It's just not clear how the contents should be used to set up the printer. I'm being overly cautious because I don't want to damage the 3D printer. I was really excited, and I want to like this product, but it needs an installation manual.
EDIT: Right after I posted the review, I found a message from yesterday in my spam from the help desk confirming that they don't have text instructions. They are very nice about it, and asked me for my model, so I will try again to get the information that I need to put this together, but trying so far has been really frustrating. Also, be careful when you review, because I only put my nickname in the "Name" field when filling out a review, but the system apparently looked up my name from their customer records and posted my full name instead of the one that I chose to display publicly. I also tried to make a new one under 'anonymous', and it published the name I put on rather than making it anonymous, so that worked, except that it wasn't actually anonymous.
nothing
I have nothing yet . it's still in Atlanta Ga.
Chocolate 3d printing with LuckyBot
Wow, it's amazing. With the LuckyBot food extruder, there is no longer any need to buy different choco molds, I can immediately print the desired model. I like chocolate benchy. If you are looking to 3d print some chocolate then luckybot is the most affordable option I have seen out there. I honestly feel that with a little bit of patience a little you'll be able to 3d print some chocolate into some very interesting and creative designs.
This is definitely useful if you have an upcoming wedding or maybe a bake shop or just something to have a little bit of fun with when you share treats with family and friends.
The lucky bot team has made an interesting product that works great.
A good trial with luckybot on my creality ender 3 v2 3d printer
I saw this product on Facebook and Ins. So LuckyBot really did a great effort to show their products to people who are interested in food 3d printing. I have an ender 3 v2, and luckybot says it works with my printer, so why not give it a try. It's easy to install the extruder on my printer, and the instructions are detailed on their website. You can also find some interesting models there and they updated some new models, I will try them later. At first, I did not find a suitable temperature for my chocolate, I use Callebaut 811-54.5% dark chocolate, Luckybot staff recommend that. And so many thanks to Julia, she helped me a lot with the printing and replied very quickly, and patiently. With her help, I got my first chocolate 3d print, even though it wasn't very good, I still had fun because it was interesting. Then I thought I got some good prints after several attempts. You can see the pictures uploaded. Next, I will try different materials they recommend and share luckybot with my friends, a good 3d food extruder for FDM printers. And LuckyBot Team, please update more wonderful images or videos to show us your product👍
My first trial with LuckyBot Food 3d printer extruder
Received my LuckyBot 3d food printer two days ago and got started as soon as I received. As they said, I really turned my 3d printer into a food printer in a few minutes. I totally followed the instructions on their website. Filling chocolate, wire connection, printing...And got my first 3d chocolate model with their gcode file which I downloaded from their website, it's very good and convenient for newbies. If you want to do some changes on the model, you can download the stl files and slice in the Cura 15.04 they provide.
Here it is what I get, a hexagonal chocolate cup! I like it! 😁And the most important thing I found during the printing is the temperature of the chocolate. It may take a few more tries to find a suitable temperature, but once you find it you will be successful. And thanks to my friend's yellow chocolate, let me to print a yellow octopus.🤣🤣